Boat Plans
For the DIY-er Yves-Marie has assembled a collection of boat plans designed for the home boat builder for those that prefer their own craftsmanship. Easy to follow plans, all of the information you'll need, and well thought out designs. If you should require further consultation Yves-Marie is available for design alterations, and advice should you need it.
19'6" Mouse Cat Yawl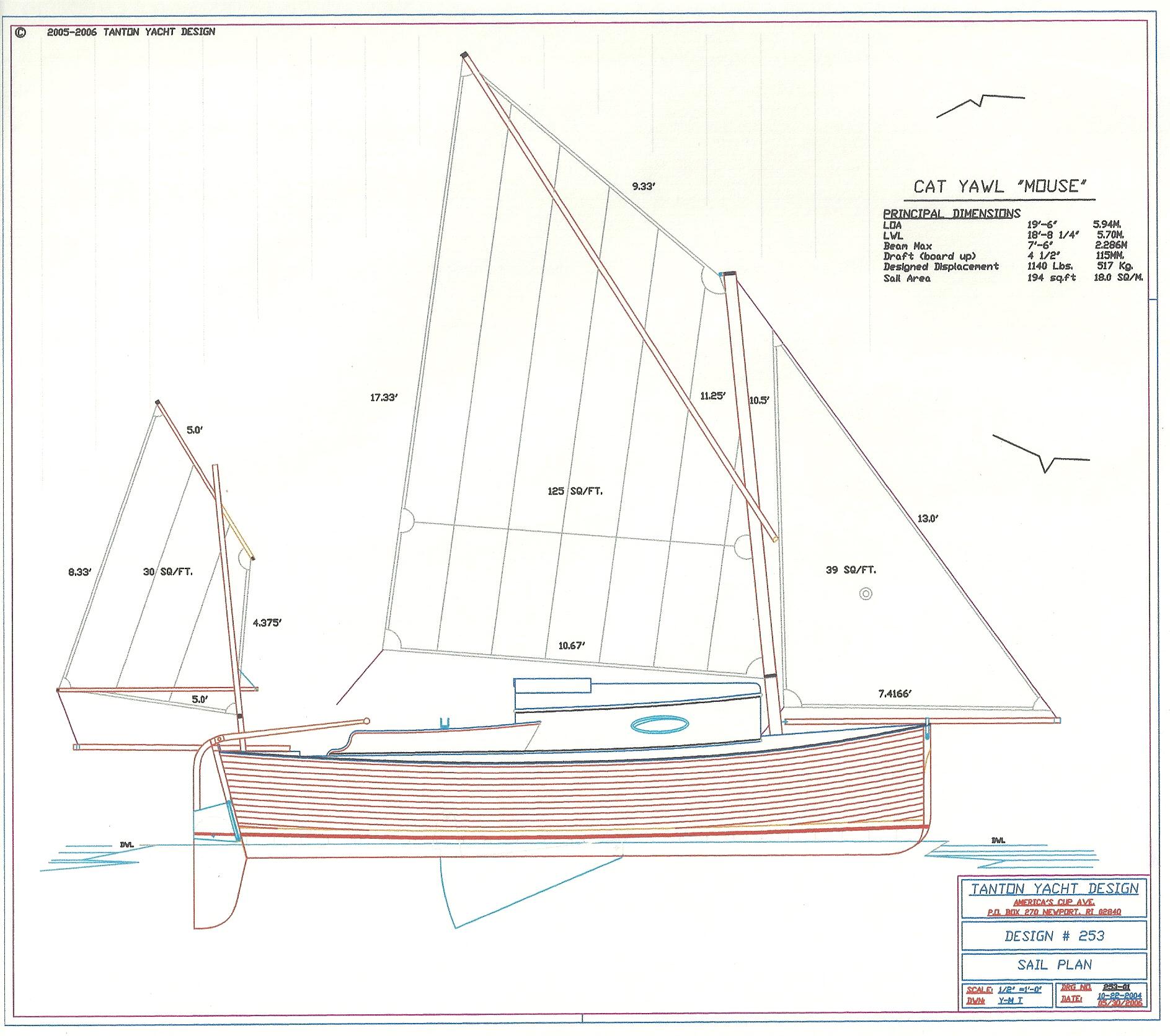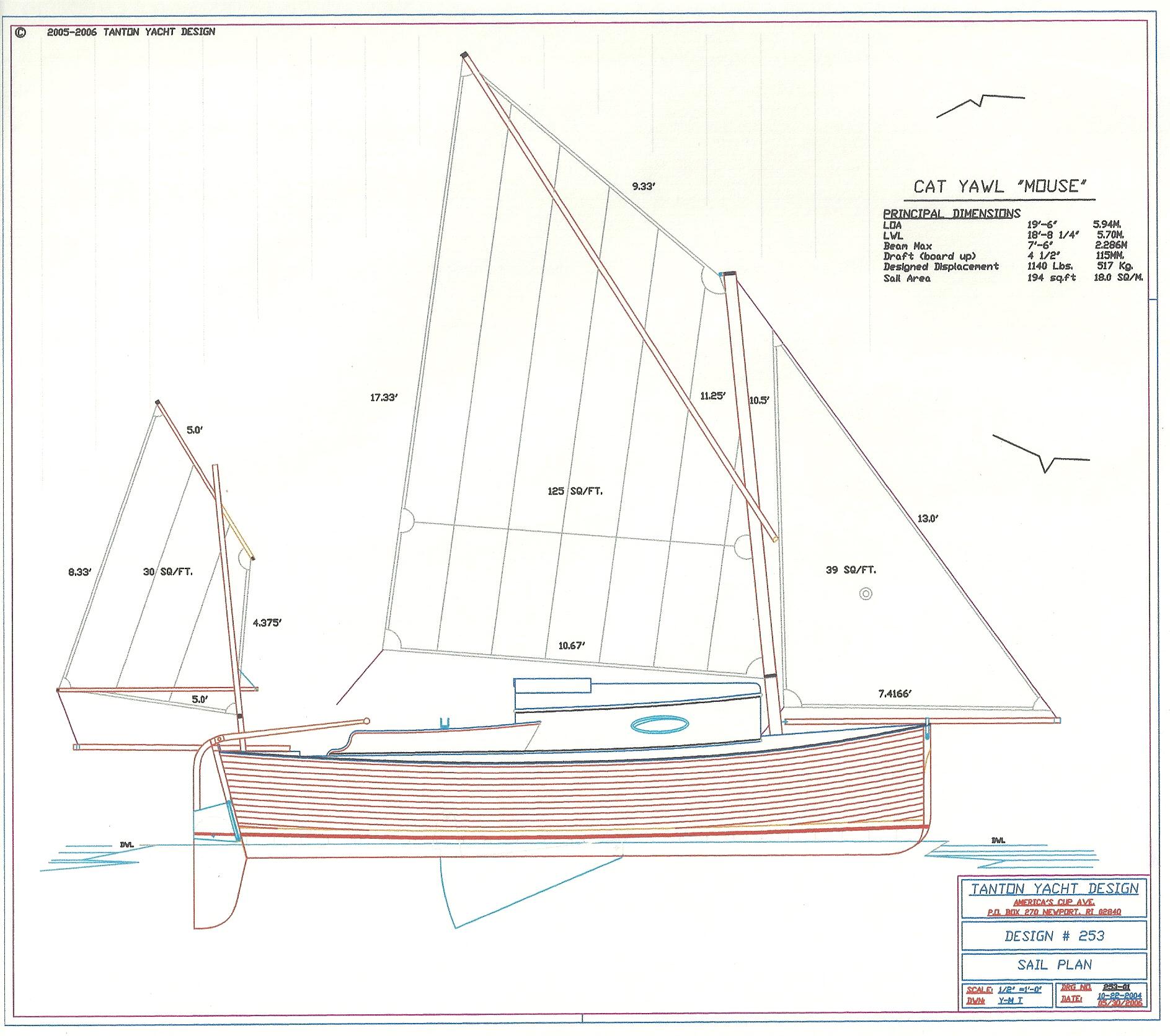 19'6" Mouse Cat Yawl
Design #253.
Mouse Cat Yawl.
Principal Characteristics.
L.O.A 19'-6" x Beam 7'-6" x Draft 4 ½" x Dspl. 1140lbs.
L.O.A 5.95M. x Beam2.29M. x 115mm. x 517Kg.
DRG. 253 Sail Plan.
DRG. 253 Lines Plan.
DRG. 253 General Arrangement.
DRG. 253 Construction Plan. Strip Planking.
US$200.00. Buy.
MOUSE: A Cat-Yawl for the vacationing raider.
There are numerous small boats. Many of them appealing. To translate this into a new and different design is not easy. Especially for a Design Competition. So, I admit that a small boat by Steve Redmond, the Elver has always been intriguing to me. And will serve has a starting model for the objectives at hand. The cute double ender is quite a thing of beauty. Designed in appreciation of the canoe-yawl of a century ago. Pretty clever in design and construction to boot.
Mouse is also, hopefully such a neat small boat. With enough differences that she becomes an individual choice between the two models. They have the same goals of affordability, mobility, adorability (if there is such a word).
Everything is aimed to keep the large dream of sailing the South Seas modified into another more essential form. Vacation time. For this moment of exodus by highways and byways, a boat on a trailer behind the family car is a good thing.
The main characteristics of Mouse are: LOA 19'-6", 5.94M; Beam of 7'6", 2.286M; Draft of 4 1/2",115MM. with the board up. Weigh-in at 1140lbs, a fair margin for hauling. This explorer is trailer able, light and shoal.
Cost, reality of everyday is the main motivation for designing this little boat. The economy is achieved by attrition. Getting rid of just about everything you see in boats these days. Ballast, winches, standing rigging are gone. Replaced by traditional common building materials with a straightforward method of construction and with simplicity in amenities and equipment. This is a boat to build rather than to be bought. The shapely lines are molded over four bulkheads including the transom. Mouse is not a double ender. It was thought that a transom would be more appropriate in order to gain width in the cockpit. Essential in such a small boat to have elbowroom where life on deck is of primordial necessity. The 3/4" square strip planking on the topsides and parts below the waterline is placed on top a flat plywood bottom. Further simplifying the building time. The stiffness of the structure is achieved by building the centerboard case on centerline, with additional transverses forward to handle torsion and aft to support the cockpit. Two different boards are proposed. One high aspect ratio, and light, the other one made of metal. The second could be of interest to gain more stability for more offshore (limited) experiences. Surprisingly, there is seating headroom inside the coach roof. Clearly, the accommodation plan is limited. To a double berth, nonetheless and adequate shelf for camping gear.
The Cat-Yawl rig is reminiscent of the canoe yawl of years past. Set on spars removable by hand, the sail area is plentiful and easily reduced by lowering one sail or another. The absence of rigging, and masts build of standard wood stock are a big advantage.
All said. There is not much more to say. The style in which you will be sailing this boat will bring a smile to many observers. But before that, the ability for you to build her makes the whole approach a valid one.