Boat Plans
For the DIY-er Yves-Marie has assembled a collection of boat plans designed for the home boat builder for those that prefer their own craftsmanship. Easy to follow plans, all of the information you'll need, and well thought out designs. If you should require further consultation Yves-Marie is available for design alterations, and advice should you need it.
31' Seashell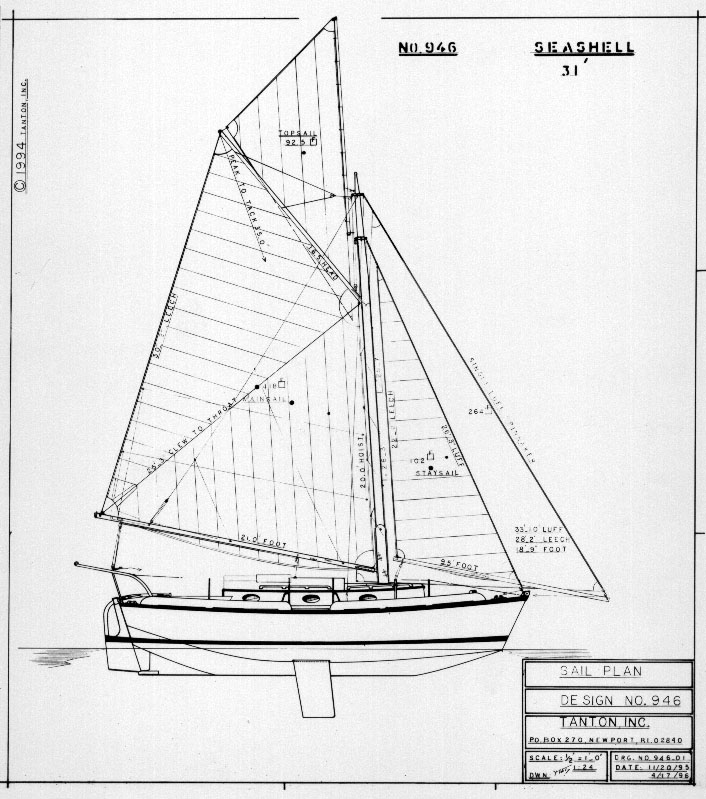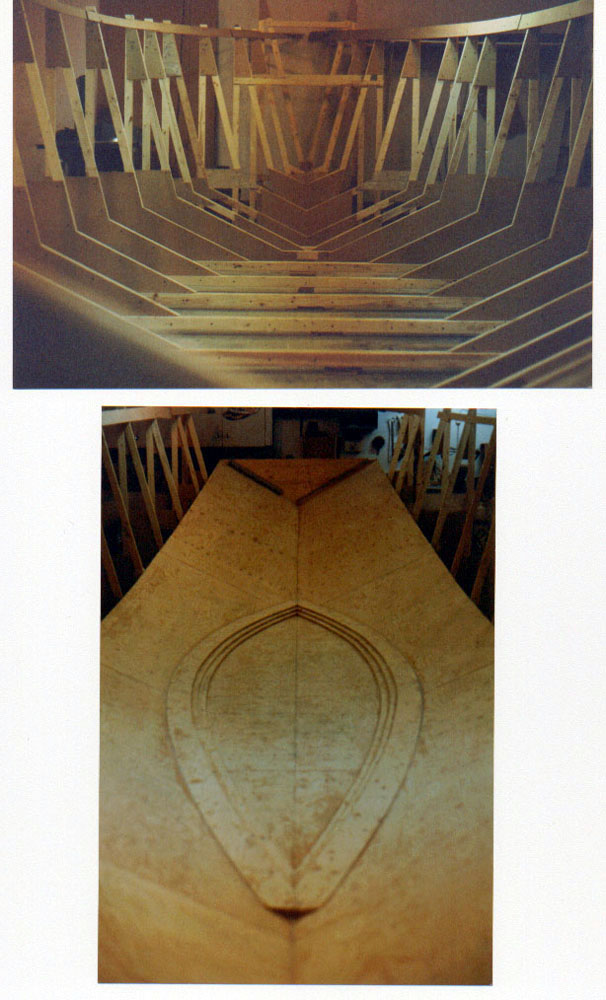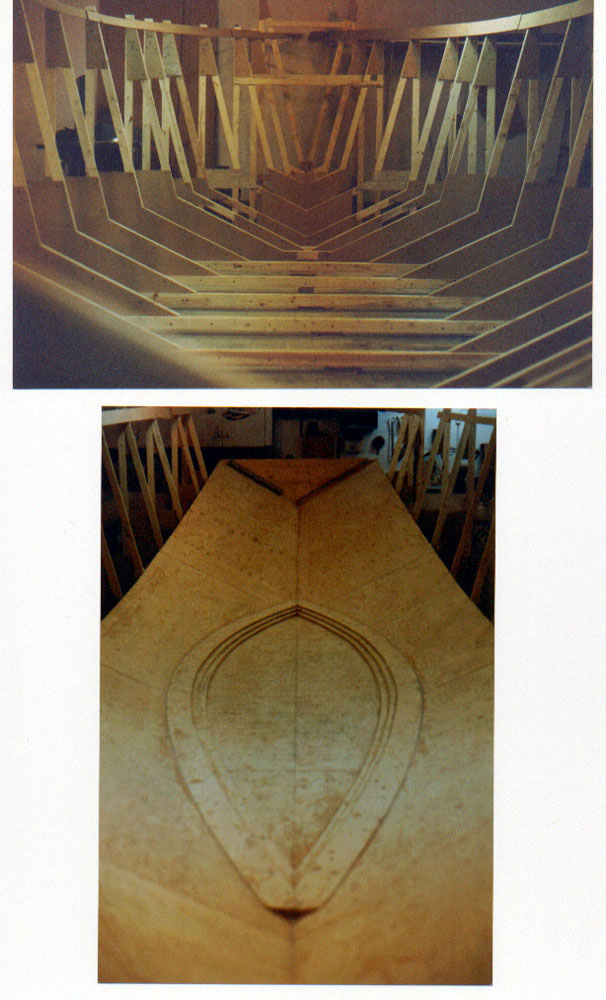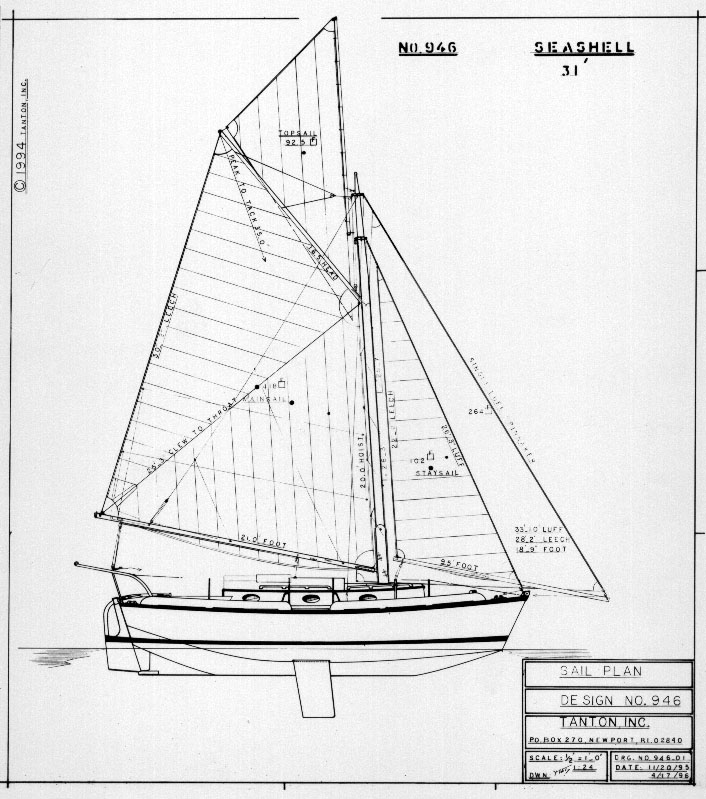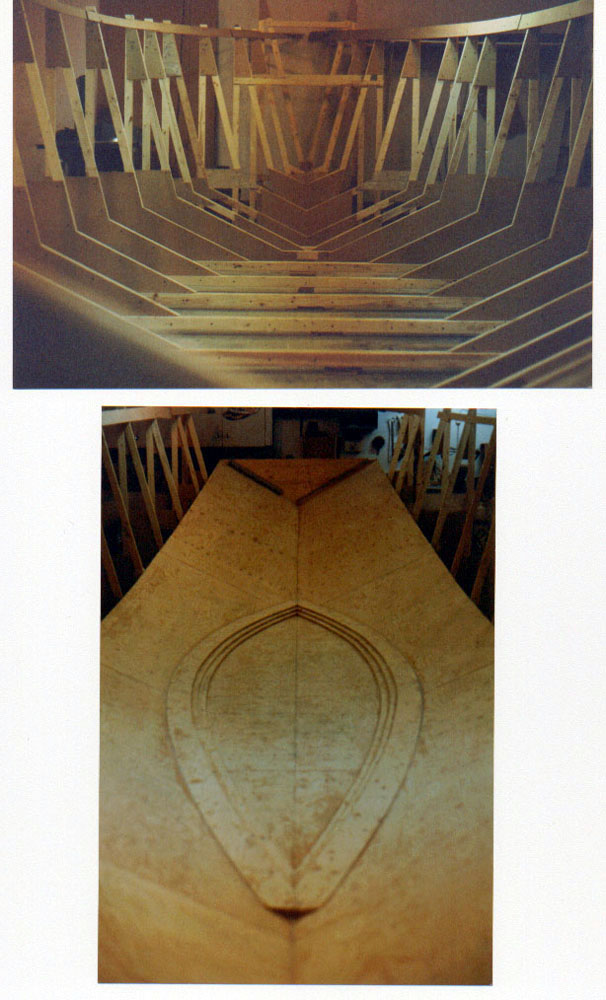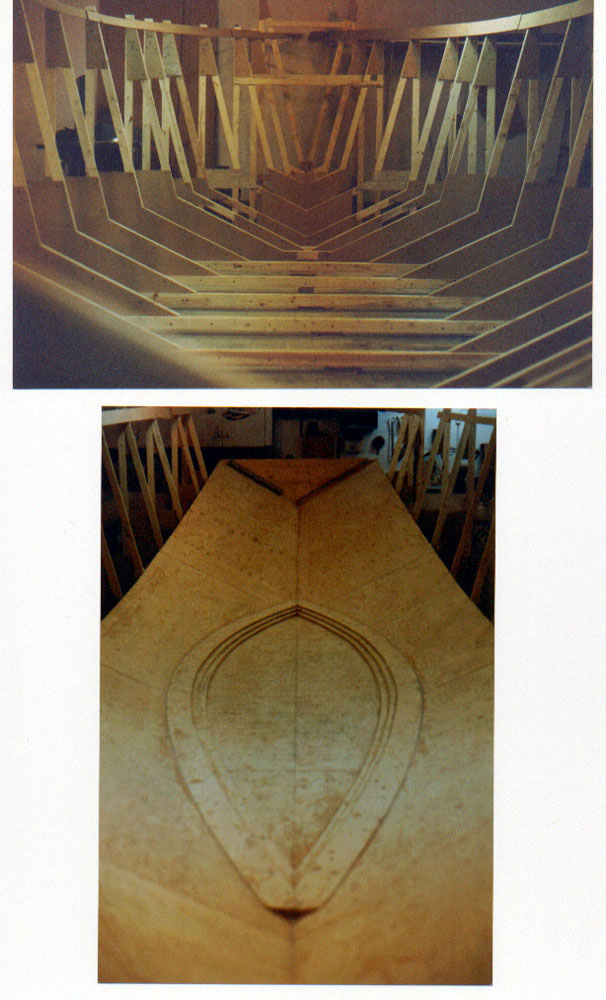 31' Seashell
"Seashell" 31.
L.O.A31' x L.W.L 27'-4" x Beam 10' x Draft 2' x Sail Area. 526 sq/ft.
9.40M. 8.33M. 3.05M. 610mm. 48.5 sq/m.
Plans for this Coastal daggerboarder include the following sheets.
DRG. 946-01 Sail Plan Scale: 1:24 1/2"=1'-0"
DRG. 946-02 Mast and Rigging 1:24 1/2"=1'-0"
DRG. 946-03 General Arrangement Plan 1:12 1"=1'-0"
DRG. 946-04 Lines Plan. Table of Offsets. 1:12 1"=1'-0"
DRG. 946-05 Constructions Sections 1:4 3"=1'-0"
DRG. 946-06 Construction Plan. 1:12 1"=1'-0"
DRG. 946-07 Daggerboard Plan. 1:8 1 1/2"=1'-0"
DRG. 946-08 Rudder Plan. 1:4 3"=1'-0"
DRG. 946-09 Deck Plan. 1:12 1"=1'-0"
U.S$500.00. Buy.
N0. 946
SEASHELL
In the wake of Seaweed the center boarder, Seashell is a dagger-boarder daughter. Smaller in size and displacement, the model is more coastal oriented. Thin water areas are the playgrounds with maybe a quick jaunt to the Bahamas as a trip on its own. The themes of common sense and logic dictate the reasons for the way she is.
I started with a so-called " InsTanton " hull shape to define the panels for the straightforward hard chine. The V deadrise is cut off at 2 feet of depth to a horizontal flat.
All plywood skins are laid on straight sections and have no twist. Lofting is at a minimum. The depth of hull is calculated to give adequateballast stiffness under way, 6'-4" headroom under the cabin beams and only slightly less in the forward cabin. She will sit upright on the beach. The shape and crown to the roof will get you back on your feet for ultimate stability. Displacing 9,000 lbs. light, the boat can be loaded up to 12,000 lbs. with cruising gear and stores. This medium displacement includes a hefty 5500 lbs ballast mixture of concrete and lead or steel poured right in. A positive righting arm at more than 120 degrees is the result. Construction simplification is the consequence.
Five bulkheads structure the interior and determine the available space. Straightforward accommodation is intended. Galley to port, toilet to starboard, both six feet in length. Engine in between. Seven feet of salon allows two generous settee berths and a table. The daggerboards are built inside the hull shell. Unobtrusive and structurally well supported. The forward cabin, also at seven feet, is divided from the rest of the boat by the main bulkhead, affording privacy to the double bed activities. Fore and aft watertight compartments add to the safety of the boat.
On deck are cockpit lockers, including a large icebox filling to the galley down below. The seven-foot cockpit is well protected by coamings and bulwarks.
The sail plan is designed to catch the zephyrs of the rivers, the lakes or the sea: generous in light air. But when snuggled with a reef the center of effort is lowered to the level of the permanent small balancing staysail. The balastron/ bowsprit articulates on the bow fitting and extends itself into a spinnaker pole. This is also used to lower the folding mast for bridges.
This boat is a kind of " Swiss Army Knife ". There is nothing she cannot do with a little reflection and time.
PRINCIPAL CHARACTERISTICS.
L.O.D : 31'-0" 9.40 M
L.W.L 27'-4" 8.33 M.
DRAFT 2'-0" 610mmBoard up. 5'-3" 1.60 M. Board down.
SAIL AREA 526 SQ/FT. 48.5 SQ/ M..
SA/D 19.45
D/L 196.8
L/B 3.1
AUXILIARY 10-HP and UP.
FUEL 20 GALS. MINIMUM
WATER 20 GALS. MINIMUM.